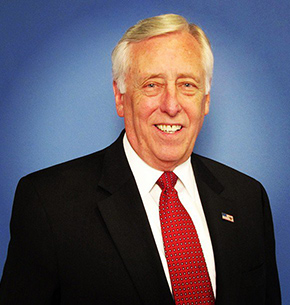 House Majority Leader Steny H. Hoyer has dedicated his life to public service. Beginning with his election to the Maryland State Senate in 1966, he has spent over 50 years fighting for policies to improve America.
Congressman Hoyer has built an outstanding record of achievement, and his reputation as a consensus-builder and skilled legislator has led to increasing responsibility within House Democratic leadership. As House Majority Leader for the 116th Congress, Congressman Hoyer is the second-ranking member of the House Democratic Leadership. He is charged with mobilizing the party vote on important legislation, acting as a liaison between Members and the Democratic Leadership, and coordinating strategy within the Caucus. He also plays a key role in shaping House Democrats' legislative priorities and in delivering the Democratic message.
He previously served as House Democratic Whip from 2011 to 2019, House Majority Leader from 2007 to 2011, and House Democratic Whip from 2003 to 2007. Prior to serving as the Whip in the 108th and 109th Congresses, he served as Chair of the Democratic Caucus – the fourth-ranking position among House Democrats – from 1989 to 1995. He is the former Co-Chair of the Democratic Steering Committee, and served as the chief candidate recruiter for House Democrats from 1995 to 2000.
He received his BA from the University of Maryland in 1963 and his JD from Georgetown University Law Center in 1966. After his election to the State Senate, he became the youngest State Senate President in Maryland's history in 1975 at the age of 35.
Congressman Hoyer and his wife, the late Judith Pickett Hoyer, have three daughters, Susan, Stefany, and Anne; son-in-law Loren Taylor; grandchildren Judy, James Cleveland, and Alexa; and great-grandchildren Ava, Braedon, Brooklyn, and Savannah.